Posted 02/01/2017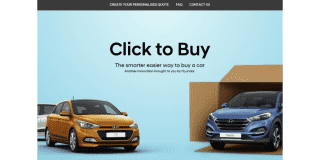 Remember the days when ordering your pizza or requesting a taxi online seemed like a really innovative and cool concept? Well, get ready for the next step in the digital evolution as Hyundai has just launched the "Click to Buy" campaign which allows guests to fully commit to buying without having to enter a dealership.
Hyundai Motors UK president and CEO, Tony Whitehorn also believes that even though five customers have already bought a Hyundai via the Click to Buy Services, that the company is not looking to spell the end of the traditional dealership.
"I think some manufacturers think that they will end up dealing directly with the customer, but that is not how it's going to work. What will happen is that we'll do the transaction, but fundamentally, the dealer will do all of the physical process," Whitehorn said.
Whitehorn's belief is that pairing the online experience with the traditional dealership is the key to the future success of the company.
In case you hadn't heard, Don Valley North Hyundai was awarded the opportunity to sell Genesis vehicles. The sale of these vehicles is similar to the Click to Buy policy, wherein, the guest goes online, selects the vehicle that they're interested in and is then paired with a Genesis eXpert who assists them in providing information about the car.
The guest then has the vehicle delivered to their home where the eXpert provides a detailed run down of the car's features. We're excited to have this as a part of our process and if you have any questions or concerns, please feel free to call us or pay us a visit at onWoodbine Avenue just north of Steeles in Markham.